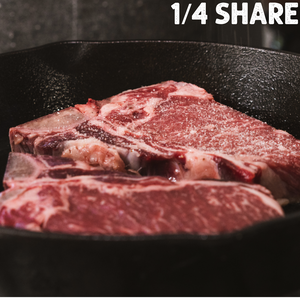 Vacuum seal wrap: $5.25/pound/hanging weight

Fill your family's freezer with premium quality, Idaho beef from Thomas Cattle Co.  This is the best value you'll get due to buying in bulk.
A $250 non-refundable deposit is required to reserve 1/4 beef share. The remainder will be due in a payment plan that works for you or in one final lump sum payment due before pickup at the butcher.
With 1/4 beef, a standard set of cuts is selected for the customer. We split a half of a beef evenly between two customers.

View approximate cuts you'll receive here. 


Costs:
All cut and wrap charges are covered by TCC and included in your total price per lb cost. All you'll pay is the hanging weight times the cost per pound shown below, plus ID sales tax.
Vacuum seal wrap provides superior protection for freezing your beef and pulling it out to defrost as needed. Vacuum seal allows for one - two years freezer life. 

Clear Vacuum Seal: Sustainable Meats, Kuna, ID 

1/4 beef: $5.25/lb/hanging weight


In our most recent harvest, the average 1/4 beef hanging weight was 200 lbs. The weight of beef that the customer gets is typically 60-65% of the hang weight. That would be 120 lbs from a 1/4 beef at 200 lbs. Weights will vary by animal as we finish them out until they meet our high standards for delivery to our customers.
For an idea of rough cost: 
Vacuum seal: 200 lbs x $5.25 = $1050 + tax = $1,113