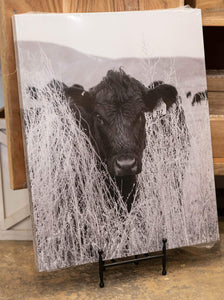 This beautiful black and white Thomas Cattle Company heifer canvas features a young mother guarding over her newborn calf, laying in a tall patch of grass just out of frame. The heifer thought she was hiding her baby from us, as we drove through the open fields searching for calves to photograph.
The way she makes eye contact with my camera tells me that she was not going to be having it, if I were to get any closer to her calf. Heifers are first time mothers, including this one. Angus cows are known to be especially protective over their young, and she was no exception.

Not to worry mama, we were just admiring.
Dimensions: 16 x 20
Weight: 2.2 pounds