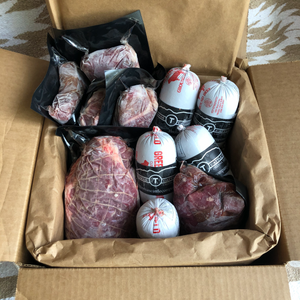 Savor every moment with our premium all natural Angus Comfort Food Bundle - perfect for any season, especially fall and winter. 
Immerse yourself in the rich, hearty goodness of this thoughtfully curated bundle. From cozy stews to comforting roasts, each cut tells a story of quality, care, and excellence. 
Picture the aroma of a slow-cooked roast in your home, or the satisfaction of a savory stew that warms you from the inside out. These are the moments the Comfort Food Bundle is designed for – a reminder that the best memories are often made around the dining table.
Included in the Comfort Food Bundle:
[1] Stew/Kabob approx. 1.25#
[5] Ground Beef (1# each)
[1] Chuck or Rump Roast 
[3] Cube Steak  
*Items may vary slightly from photos.